THE VENUS COMPLEX by Barbie Wilde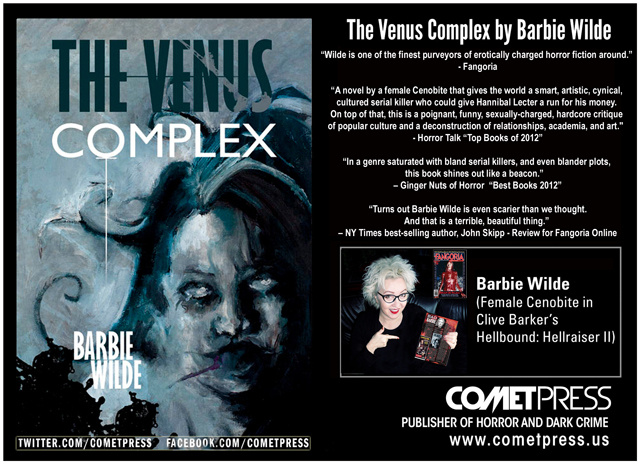 (Artwork by Daniele Serra)
*
Enter into Michael's world through the pages of his personal journal,
where every diseased thought, disturbing dream, politically incorrect rant
and sexually explicit murder highlights his journey from zero to psycho.
*
*
*
Now an audio book narrated by Hellraiser's Doug Bradley!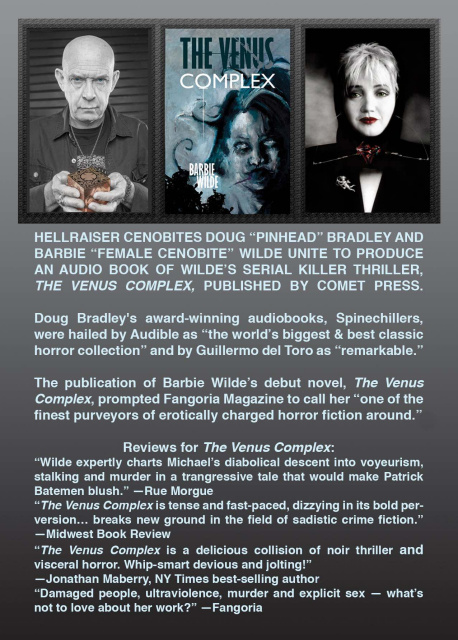 *
EXCERPTS FROM REVIEWS FOR THE VENUS COMPLEX:
"Wilde is one of the finest purveyors of erotically charged horror fiction around."
- Fangoria #320
*
THE VENUS COMPLEX is a delicious collision of noir thriller and visceral horror.
Whip-smart devious and jolting!"
- Jonathan Maberry, Multiple Bram Stoker Award Winner
& New York Times best-selling author of CODE ZERO and V-WARS
*
Wilde expertly charts Michael's diabolical descent into voyeurism, stalking
and murder in a transgressive tale that would make Patrick Bateman blush.
- Alan Kelly, Hell's Shelves, Rue Morgue Online
*
"After purposefully killing his wife in a car accident, art professor
Michael Friday finds his perspective on things has become a little…warped.
Via his personal journal, we're allowed into his mind to slowly watch the
disintegration of it, bearing witness to his unnerving sexual cravings and
ideas about killing: intertwined with the paintings he loves so much.
As Michael writes, he's 'turning into something dead';
but at the same time he wants to be somebody, not a nobody.
"Using his diary to rant against the world in general – including everything from
banks to popular culture, from national holidays like Christmas to politics –
he reveals more about the big, gaping hole in his own life. But as the novel goes
on the first person narrative tensely builds up, displaying his dark dreams
and innermost thoughts; his way of filling that void and presenting his grisly
'works of art to the world. As intelligent and cultured as Hannibal, easily
as disturbing as American Psycho and infinitely less 'reassuring' than Dexter,
this is a sexually-charged real life horror story that will definitely stay with you."
- Paul Kane, award-winning author & editor
*

"Read the damn book. Watch every movie the lady's been in,
read every antho in which this woman's appeared.
Fall in love with tainted love and fight the frightfuls,
The Venus Complex is, in every sense of the word, the real thing."
- Garrett Cook, Imperial Youth Review
*
Not for sensitive readers; after finishing this book you might never feel clean again."
- Jessa Sobczuk, The Grim Reader, Rue Morgue #139
*
"Not even in Hell's deepest, darkest labyrinth could you find anything sicker,
nastier or more depraved than the narcissistic conquests of Michael Friday,
the killer you should hate, but can't help but like a little bit. And Wilde's ability
to make this smug, arrogant bastard at all likable is both amazing and
deeply disturbing. My moral compass tells me I should hate her for this,
but my morbid curiosity demands that she produce a sequel post haste.
Written in journal entry format, The Venus Complex is a quick, dirty little
high-speed read, tense and shamefully exciting and almost impossible to put
down. Imagine the hottest, horniest f*%kbook in the Black Lace library spliced
in with a Quantico serial killer profile report and you've got The Venus Complex.
Read it and try NOT to squirm, either in ecstasy or horror. It simply cannot be done.
- Annie Riordan, Brutal As Hell
*
"Wilde's great triumph here is that she goes all the way with her
man Friday, allowing his nasty flights of fancy full reign."
"But I think what I like most about this news story is that she kicked
my ass so hard with her first novel. Turns out Barbie Wilde is even scarier
than we thought. And that is a terrible, beautiful thing."
- New York Times bestselling author John Skipp for Fangoria Online
*
"Wilde's most recent offering is the wryly comic but no less grotesque thriller
The Venus Complex (Comet Press), the sordid tale of mentally unbalanced
art history professor Michael Friday, who moonlights as a sexual killer. The book
has been garnering great reviews, firmly confirming the literary course that is now
defining Wilde's life. Damaged people, ultraviolence, murder and explicit sex --
what's not to love about her work?"
- Chris Alexander, Editor-in-Chief, Fangoria #321

*
"A novel by a female Cenobite that gives the world a smart, artistic, cynical,
cultured serial killer who could give Hannibal Lecter a run for his money. On top
of that, this is a poignant, funny, sexually-charged, hardcore critique of popular
culture and a deconstruction of relationships, academia, and art."
- Gabino Iglesias, Horror Talk: "Top Books of 2012"

*
"This brilliant look into the mind of a serial killer is full of poetic anger and
beautiful vitriolic ranting that it makes you wonder from which pit of hell
the lovely Barbie came from. In a genre saturated with bland serial killers,
and even blander plots, this book shines out like a beacon."
- Ginger Nuts of Horror: "Best Books 2012"
*
"The Venus Complex is one of the best depictions of steadily mounting
evil this side of Poe. Or Clive Barker, for that matter. "
- Gabriel Ricard, Drunk Monkeys
*
"The Venus Complex is a deftly plotted and calculated work of terror.
Like the painted masterworks Michael Friday draws from to inspire his
blood-fest, each verbal brushstroke falls on the page at the precise spot
Barbie Wilde wants it."
- Blood E. Bastard, Horror News Network
*
"The Venus Complex, as the title suggests, is an erotically charged
novel, and there are some passages that give the likes of Anais Nin
and Alina Reyes a run for their money."
"…Hitchcockian in its portrayal of murderous obsession."
- Jon Towlson, Starburst Magazine
*
"Its fast pace and the progression of Friday from jealous husband
to complex serial killer heightens the page-turning prose."
"This is an incredibly strong debut which if indicative of Wilde's future
output suggests we're all in for a treat."
- Michael Wilson, Scream Magazine
*
To read the first post-publication review of The Venus Complex, go to:
http://www.gingernutsofhorror.com/4/post/2013/04/the-venus-complex-by-barbie-wilde.html
Excerpts from the review:
"This is one hell of a novel. Barbie Wilde has written one of the most tense
and powerful stories I have read in a long long time. This is not a book for the faint
of heart, there are passages in here that will truly shock you…"
"I don't know from which dark recess of Barbie's mind she dragged this story
from, but she is really beginning to scare me. It is as though some dark primal rage
takes control of her mind when she writes stories like this…"

"...fear not, this book isn't just about shocking the reader, which it does to the
maximum. This book is also extremely well written. You will become captivated by the
sheer talent of Barbie's writing. She manages to turn a vile evil character into someone
that you will perversely start rooting for..."

"From reading her short stories I knew Barbie Wilde had a talent for writing.
With The Venus Complex, Barbie's talent has been given a much larger canvas
to play with. And Barbie has filled every square inch of the canvas with
a stunningly brilliant work of fiction."
*
*
*
For more reviews and links to reviews of The Venus Complex, please go here:
http://www.barbiewilde.com


*
*
*

*
*
*
THE VENUS COMPLEX IS PUBLISHED BY COMET PRESS

AVAILABLE FOR PURCHASE ON ALL THE AMAZONS

AMAZON.COM:
http://tinyurl.com/venuscomplex-amazon
OR AMAZON.CO.UK:
http://tinyurl.com/VenusComplexAmazon-co-uk
AS WELL AS ON THE BARNES AND NOBLE'S WEBSITE:
http://www.barnesandnoble.com/w/the-venus-complex-barbie-wilde/1113610637?ean=9781936964444

*
*
*
WATCH THE TRAILER FOR THE VENUS COMPLEX:
*
*
*
*
For more info about The Venus Complex, go to the Comet Press website:
http://www.cometpress.us/books/venuscomplex.html
*
*Like* The Venus Complex on Facebook at:
http://www.facebook.com/TheVenusComplex
*
*
Click here for more reviews on Amazon.co.uk:
http://www.amazon.co.uk/product-reviews/1936964449/ref=dp_top_cm_cr_acr_txt?ie=UTF8&showViewpoints=1
and on Amazon.com:
http://www.amazon.com/The-Venus-Complex-Barbie-Wilde/product-reviews/1936964449/ref=dp_top_cm_cr_acr_txt?ie=UTF8&showViewpoints=1
and on Goodreads:
http://www.goodreads.com/book/show/16278152-the-venus-complex
*
*
*
MORE ABOUT PAUL KANE:
- Paul Kane is an award-winning writer and editor based in Derbyshire, UK. His short story collections are Alone (In the Dark), Touching the Flame, FunnyBones, Peripheral Visions, Shadow Writer and The Adventures of Dalton Quayle, with his latest out from the award-winning PS Publishing: The Butterfly Man and Other Stories. His novellas include Signs of Life, The Lazarus Condition, RED and Pain Cages. He is the author of the novels Of Darkness and Light, The Gemini Factor and the bestselling Arrowhead trilogy (Arrowhead, Broken Arrow and Arrowland), a post-apocalyptic reworking of the Robin Hood mythology. He is co-editor of the anthology Hellbound Hearts – stories based around the Clive Barker mythology that spawned Hellraiser – and The Mammoth Book of Body Horror out March 2012, featuring the likes of Stephen King and James Herbert. His non-fiction books are The Hellraiser Films and Their Legacy and Voices in the Dark. His work has been optioned for film and television, and his zombie story 'Dead Time' was turned into an episode of the Lionsgate/NBC TV series Fear Itself, adapted by Steve Niles (30 Days of Night) and directed by Darren Lynn Bousman (SAW II-IV). He also scripted the The Opportunity, which premiered at the Cannes Film Festival, and The Weeping Woman– filmed by award-winning director Mark Steensland and starring Tony-nominated actor Stephen Geoffreys (Fright Night). Paul is currently turning a bestselling horror novel into a feature script for a production company in the States.
You can find out more at his website http://www.shadow-writer.co.uk which has featured Guest Writers such as Neil Gaiman, Charlaine Harris, John Connolly, Dean Koontz and Guillermo del Toro.
*
*
*
Thanks to the award-winning artist Daniele Serra for the cover art for The Venus Complex
Check out Daniele's website:
http://www.multigrade.it/
*
*
*
*